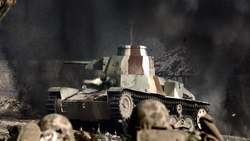 The 14th Japanese Imperial Army division was a infantry division of the Imperial Japanese army before and during the Second world war.The nickname of the division was Shining division.
The division was formed in 1905 and was one of the first Japanese army divisions to participate in the Russo-Japanese war of 1905.
The division participated in the Siberian Intervention in the years 1919-1922, when members of the division were massacred by Russian Bolschevicks known as the Nikolaevsk Incident.
In 1932 the 14th Infantry division was a part of the Japanese Chinese or Kwatung army, when it participated in the second Sino-Japanese war, where the division participated in the Baipink-Haiwor railway Operation and was invoved in the Battle of Lafeng.
In 1942 the division was stationer for a short time in Japan, befor the Japanese Army High Comand ordered the divison to occupy the Island of Palau and the 2nd Infantry regiment to occupy the Island of Peleliu. The battle of Peleliu was one of the blodiest battles of the Pacific campaign, in which 10,965 out of 11,000 Japanese soldiers were slaughtered. After the Battle and the heavy losses at Peleliu and Palau the 14th Imperial Army Infantry Division seeced to exist.
Units and Regiments
Edit
3rd Infantry regiment
15th Infantry regiment
59th Infantry regiment
14th division transport unit
14th division Sea transport unit
Units based on Peleliu:Edit
2nd Infantry Regiment (This unit fought against the 1st Marine Division and defended Peleliu)
15th Infantry Regiment
59th Infantry Regiment
Ad blocker interference detected!
Wikia is a free-to-use site that makes money from advertising. We have a modified experience for viewers using ad blockers

Wikia is not accessible if you've made further modifications. Remove the custom ad blocker rule(s) and the page will load as expected.