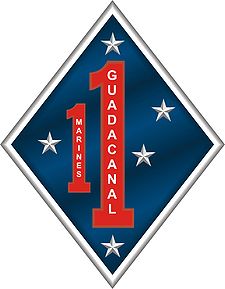 The 1st marine Regiment
is a regiment in the United States Marine Corps
It was first activated in 1913. It would later serve in the Banana Wars, before being deactivated in 1916. It was then reactivated in 1917, but was deactivated again in 1924. It was reactivated in 1925, but deactivated yet again in 1931. It was reactivated in 1941 for World War II, serving in the 1st Marine Division. It would serve as Private First Class Robert Leckies unit. It would fight at Guadalcanal, to Cape Gloucester, to Peleliu, where it was nearly wiped out on Bloody Nose ridge. It would then participate in the Battle of Okinawa (island). It then participate in the occupation of China, before being deactivated in 1949. It was then reactivated in 1950, and would fight in the Korean War, and the Vietnam War, to Operation Desert Storm, or the Gulf War, to Operation Enduring Freedom, or the Afghanistan War, before being moved to Operation Iraqi Freedom, or the Iraq War. It is currently doing basic training at Camp Pendleton.
Ad blocker interference detected!
Wikia is a free-to-use site that makes money from advertising. We have a modified experience for viewers using ad blockers

Wikia is not accessible if you've made further modifications. Remove the custom ad blocker rule(s) and the page will load as expected.