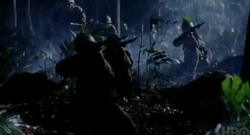 The 65th Independent Infantry Brigade was an Imperial Japanese Army unit during the Second world war. It saw combat during the Battle of Cape Glouchester
The 65th Inpdependent Infantry Brigade was a smaller unit of the Imperial Japanese army. The unit, even if it was at the size of a Brigade had a fully functional transport,tank and medical unit as well as a divisional head quarters and staff officers. The 65th Independent Infantry Brigade was assigned to the defence of Cape Glouchester, where it fought units of the American 1st Marine Division and failed to repel the American invasion and liberation of the former Dutch colony of New Britain in New Guinea. The commanding officer of the 65th Independent Infantry Brigade was Liutenant General Iwao Matsuda.
Units and Regiments
Edit
Ad blocker interference detected!
Wikia is a free-to-use site that makes money from advertising. We have a modified experience for viewers using ad blockers

Wikia is not accessible if you've made further modifications. Remove the custom ad blocker rule(s) and the page will load as expected.