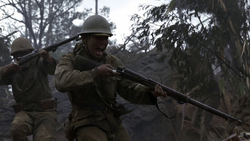 The Arisaka rifle (有坂銃 Arisaka-jū) is a family of Japanese military bolt-action service rifles, in production and use since approximately 1897, when it replaced the Murata rifle (村田銃 Murata-jū) family, until the end of World War II in 1945.
Usage by the Japanese
Edit
It is the most common Japanese weapon featured in the series. It is mostly seen used by Japanese soldiers with enlisted ranks.
Ad blocker interference detected!
Wikia is a free-to-use site that makes money from advertising. We have a modified experience for viewers using ad blockers

Wikia is not accessible if you've made further modifications. Remove the custom ad blocker rule(s) and the page will load as expected.