Charles Womack

Womack in Peleliu

Actor

John Reynolds

Rank

Corporal

Battles

Battle of Guadalcanal

Battle of Cape Gloucester

Battle of Peleliu

Battle of Okinawa

Status

Deceased as of December 28, 2010
Corporal Charles L. "Red" Womack was a Marine Corporal from Mississippi who operated the flamethrower with K/3/5. He fought on Guadalcanal, Cape Gloucester, Peleliu, and Okinawa. His service is noted in the books, Brotherhood of Heroes by Bill Sloan and With the Old Breed by Eugene Sledge.
Biography
Edit
Early life
Edit
Womack was born on October 26, 1923, in McComb, Mississippi.
He enlisted in the Marines in 1942, and was stationed in K-3-5, of the 1st Marine Division, and was made a Machine Gunner. He fought in the battle of Guadalcanal, and later at Cape Gloucester. Around that time, Womack volunteered as a Flamethrower Gunner, and served throughout the rest of the battle.
After Gloucester, Womack and the 1st Marine Division headed to Peleliu. Womack put his flamethrower to good use, and managed to take out the majority of the Japanese pillboxes. After the battle, he was reassigned to M Company, and fought in Okinawa with his new unit.
Later life
Edit
After the war, Womack became a member of the Marine Corps League, and the 1st Marine Division Association, and eventually became a railroad engineer in the Illinois Central Railroad.[1]
Corporal Womack died in the year 2010 at the age of 88. He was buried in McComb with a detail of Marines and a few proud guests and family members in attendance.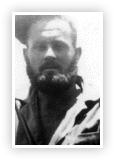 Description
Edit
"We kept up a steady fire into the pillbox to keep the Japanese pinned down while the flamethrower came up, carried by Corporal Womack from Mississippi. He was a brave, good-natured guy and popular with the troops. He was big and husky… [and] I was glad we were on the same side.
Stooped under the heavy tanks on his back, Womack approached the pillbox with his assistant just out of the line of our fire. When they got about 15 yards from the target, we ceased firing. The assistant reached up and turned a valve on the flamethrower. Womack then aimed the nozzle at the opening made by the 75mm gun. He pressed the trigger. With a whoooooosh the flame leaped at the opening. Some muffled screams, then all was quiet.…
Amid our shouts of appreciation, Womack and his buddy started back to battalion headquarters to await the summons to break a deadlock somewhere else on the battlefield–or lose their lives trying. The job of flamethrower gunner was probably the least desirable of any open to a Marine infantryman. Carrying tanks with about seventy pounds of flammable jellied gasoline through enemy fire over rugged terrain in hot weather to squirt flames into the mouth of a cave or pillbox was an assignment that few survived but all carried out with magnificant courage." - With the Old Breed: At Peleliu and Okinawa - E. B. Sledge
"It was a good thing that his high school football coach had made him spend lots of time working out with weights and blocking sleds, Womack thought. He hadn't enjoyed those workouts at the time, but they'd made him one of the best defensive tackles in the state of Mississippi at 180 pounds. They'd helped make him a damn good flamethrower operator, too.
In his last battle at Cape Gloucester on New Britain, Womack had manned a .30-caliber machine gun similar to the one his father had fired in France in 1918. But for reasons he still didn't fully understand, he'd volunteered as a gunner in a new flamethrower section after the Cape. It wasn't a very good job, Womack admitted, but he was strong enough to handle it as well as any of the other five gunners assigned to the Third Battalion of the Fifth Marine Regiment. He was a little uneasy because he'd never used his new weapon in combat." - Brotherhood of Heroes - BIll Sloan
The series
Edit
Womack is only seen in Episode 7 as a minor character. He is most notably seen firing a flamethrower at a Japanese bunker on Bloody Ridge. He is next seen throwing his helmet away when he and other Marines found out that Capt. Haldane had died. He is one of the few bearded Marines portrayed in the series. His fate was not told at the end of the series as he was not a Major character. However he survived the war and became a Railroad Engineer in McComb, Mississippi.

References
Edit
Ad blocker interference detected!
Wikia is a free-to-use site that makes money from advertising. We have a modified experience for viewers using ad blockers

Wikia is not accessible if you've made further modifications. Remove the custom ad blocker rule(s) and the page will load as expected.