Joseph "Joe" Mazzello III

Mazzello at the premiere event of The Pacific

Born

September 21, 1983 (age 34)

Occupation

Actor

Years Active

1990 — present

Hair Color

Dark Brown

Eye Color

Hazel

Role in The Pacific
Joseph Mazzello III (Born September 21, 1983) is an American actor who plays Eugene Sledge on the HBO Miniseries The Pacific.
Biography
Edit
He was born in Rhinebeck, New York, and raised in Hyde Park, New York, the son of Ginnie and Joseph Mazzello, Jr., who own a performing arts school. He has one older sister, Mary Mazzello, and a younger brother, John Mazzello, who have also appeared in a few films. Mazzello is an alumnus of Our Lady of Lourdes High School and the University of Southern California.
Mazzello's most notable roles were Tim Murphy in the 1993 film Jurassic Park and Dexter in the 1995 film The Cure. He graduated from the University of Southern California in 2005.
Joseph's directorial debut was made with the film Matters of Life and Death in which he also stars; the cast includes David Strathairn (with whom he has worked in The River Wild and Simon Birch), Daniel Gillies and Rachael Leigh Cook. He also stars with David Strathairn in The Sensation of Sight and the aformentioned miniseries.
Role in The Pacific
Edit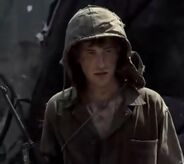 Joe Mazzello plays Eugene Sledge, a role which he had to adopt a southern accent for. Sledge has become one of Mazzello's most notable roles yet. Mazzello has worked with Steven Speilberg before in his Jurassic Park movies when Mazzello was in his 10s.
Filmography
Edit
The Pacific HBO miniseries (2010)
The Sensation of Sight (2006)
Matters of Life and Death (2006)
The Hollow (2004)
Raising Helen (2004)
Wooly Boys (2001)
Simon Birch (1998)
Star Kid (1996)
The Lost World: Jurassic Park (1997)
Three Wishes (1995)
The Cure (1995)
The River Wild (1994)
Jurassic Park (1992)
Shadowlands (1993)
Jersey Girl (1992)
Radio Flyer (1992)
Presumed Innocent (1991)
Unspeakable Acts (1990)
Ad blocker interference detected!
Wikia is a free-to-use site that makes money from advertising. We have a modified experience for viewers using ad blockers

Wikia is not accessible if you've made further modifications. Remove the custom ad blocker rule(s) and the page will load as expected.